Ambassador McCarter's Remarks at UNODC on Countering Trafficking in Persons
Ambassador McCarter's Remarks at UNODC Regional Senior Officials Meeting on Countering Trafficking in Persons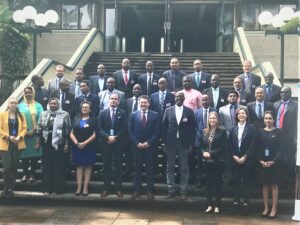 Ambassador McCarter gave opening remarks December 4 at the Senior Officials Meeting on the Benefits of a Regional Plan of Action to Counter Trafficking in Persons in Eastern Africa.  Convened by UNODC at the UN Headquarters in Nairobi, the meeting included senior officials from nine countries in Eastern Africa as well as regional economic entities.  The meeting is part of a $1 million, three-year program funded through the Department of State's Office to Monitor and Combat Trafficking in Persons (J/TIP) which seeks to assist countries in Eastern Africa to improve anti-trafficking legislative and policy frameworks as well as enhance regional cooperation and coordination.
UNODC Regional Representative Andres,
And senior officials from countries and organizations across the region.
Good morning.  Thank you UNODC for organizing this important meeting to discuss efforts to counter trafficking in persons in East Africa.  I commend you all for your participation and for your commitment to combatting this crime faced by each and every one of our countries.  Your attendance is a statement indicating how important this issue is to you.  Freedom and justice must prevail.
As Secretary Pompeo has said, human trafficking is one of the most heinous crimes on Earth.  Right now, traffickers are robbing a staggering 24.9 million people of their freedom and basic human dignity—that's roughly half the population of Kenya.  Human trafficking is a stain on humanity.  It violates the unalienable rights that belong to every human being.  If we can count it, we can stop it.
Human trafficking is a crime that ruthlessly exploits women, children, and men for heinous purposes including forced labor and sexual exploitation.  Many victims are unidentified and traffickers unpunished.  Human trafficking operates within and across borders, and trafficker methods are constantly changing.  Technological and communication advances have made it easier than ever for transnational criminal groups to exploit weaknesses and expand the global reach of their activities.
But human trafficking is not a natural disaster; it's caused by people, the traffickers themselves.  And because of that, we have the capacity to solve it.  This meeting is an opportunity to exchange information on trends and best practices as we work together to protect victims and empower justice systems to enforce the law and hold traffickers accountable.  Every trafficker stopped makes a difference – it serves as a deterrent to other potential traffickers and prevents the traffickers from exploiting more individuals.
The United States is committed to partnering with governments in East Africa to strengthen policy frameworks to combat human trafficking and increase regional cooperation.  Along with our partnership through UNODC, the United States is also working with national governments across the region to improve investigations and prosecutions.  In Kenya, we are supporting the Directorate of Criminal Investigation's Anti-Human Trafficking and Child Protection Units (AHTCPU).  Through the United States' Department of Homeland Security, we've helped to connect these specialized units to our National Center for Missing and Exploited Children CyberTipline.  This partnership has already helped to deliver actionable leads on child exploitation cases.
We've also provided technical assistance to Kenya's National Council on the Administration of Justice Special Taskforce on Children Matters.  Through the United States Department of Justice, we're providing case-based mentoring and capacity building to juvenile justice prosecutors.  The United States places a high priority on enforcing laws to end the sexual exploitation of children, and we will continue to partner closely with countries in the region to investigate and dismantle criminal organizations that engage in these crimes.
We recognize that investigations and prosecutions are only one piece of the puzzle.  To enhance prevention measures, we're also working to improve research and data collection efforts.  For example, in Kenya, we support research efforts to shine light on the prevalence of child commercial sexual exploitation and labor trafficking of migrant workers to the Middle East.  And we will continue to work closely with governments, including through our annual Trafficking in Persons Report, to improve efforts to identify and protect victims, raise public awareness, and expand prevention efforts.
The United States is pleased to support this meeting to enable discussions on the best ways to increase regional coordination, whether through a joint regional roadmap, regional plan of action, or other mechanisms.  We hope these discussions will help provide your governments with the tools you need to strengthen policy frameworks and improve your ability to respond to human trafficking.
Throughout the next two days, I encourage you to keep in mind that our end goal should always be to protect and support victims.  While we seek to bring criminals to justice, we must not forget the need to provide services to help victims to heal and recover from their trauma.
I hope this meeting will be the first of many and signal the beginning of new strides forward in combatting human trafficking.  Eliminating modern slavery will require all of us to work together to share information, improve investigations and prosecutions, strengthen preventive measures, and improve protections for survivors.