United States Donates Ksh 173 Million Mobile Field Hospital
U.S. Donates Ksh 173M Mobile Field Hospital & Ksh 131M in Vehicles and Training Equipment to Border Police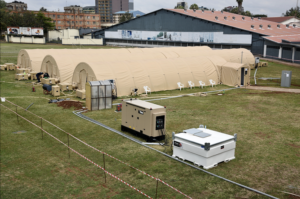 Nairobi, Kenya, November 19, 2020 – The United States today unveiled the Ksh 173 million mobile field hospital and transferred Ksh 131 million in vehicles and training equipment donated to the Kenya National Police Border Police Unit (BPU).  
Donated by the United States military's Africa Command (AFRICOM), the field hospital is the first such hospital in Africa and is the latest example of the deep health and security partnership between the United States and Kenya. The field hospital can be transported and assembled even in remote locations and houses up to 40 patients for full medical and operational needs in any condition. These state of the art, fully equipped, portable medical facilities can be rapidly deployed to the scene of a disaster or where residents do not have access to routine health care. The United States is Kenya's largest international donor to the health sector with over Ksh 60 billion given annually to fight HIV/AIDS, tuberculosis, and malaria in the last 15 years. The United States has provided an additional Ksh 7.6 billion in equipment, training, and other resources to fight COVID-19 in Kenya since the start of the pandemic. 
The donation of Ksh 131 million in vehicles and equipment is part of a larger three-year Ksh 1 billion assistance package provided by the United States to the BPU for FY2019-FY2022.  This donation will help improve BPU mobility in the border area, improve firearms proficiency and build training capacity for new officers, and provide superior conventional weaponry for BPU to protect and defend Kenyans from terrorist organizations and violence.  
Our assistance is a reflection of U.S. confidence in the strong leadership of the Administration Police and the Border Police Unit as well as a demonstration of the commitment of the United States to stand with Kenya to ensure the safety and security of all Kenyans. The donation includes 
35 new Toyota Land Cruisers;

 

One Multiple Incident Learning Objectives (MILO) indoor firearms simulator; 

 

23 sets of M4 rifles and nine millimeter Glock pistol

s

and body armor;

and

 

New computer monitors, desks, and chairs for newly build classrooms.

 
On the donations, U.S. Ambassador to Kenya Kyle McCarter said said, "The United States is and will remain a steadfast partner with Kenya in the fight against terrorism and extremism. This donation is part of the United States' ongoing commitment to the safety and security of Kenya and East Africa. Through our law enforcement partnerships with Kenyan police units including the Cyber Forensics Unit, Bomb Disposal Unit, Recce Crisis Response Team, and Border Police Unit, the United States has provided over Ksh 1 billion in training alone and funded 17 counterterrorism courses for 250 students."  
### 
For more information please contact: 
U.S. Embassy Nairobi Press Office